RECIPE
Cook delicious dishes by yourself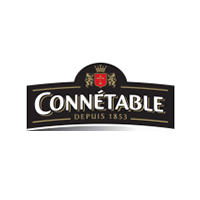 CONNÉTABLE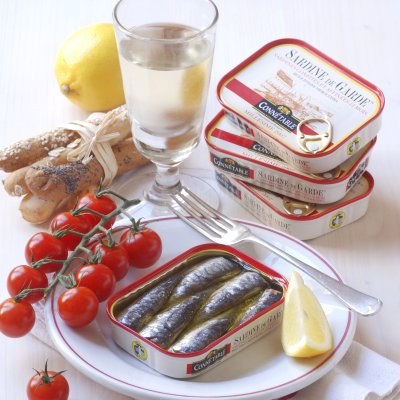 Created in 1853, the Chancerelle Company is still a family business in Brittany, one of the main marine regions of France. We mainly produce our products in France in our 2 plants in Douarnenez where we employ 320 workers.
We offer a wide range of canned fish: sardines, mackerels, white tuna, salmon, trout… All the main best-sellers are prepared specifically for our customers. We believe that our premium quality is our main difference compared to the existing products on the market. We are IFS (International Food Standard) and offer quality products with the official Label Rouge certification.
In 2007, Chancerelle was the first canning company in France to be MSC (Marine Stewardship Council) certified.

"The MSC's fishery certification program and seafood ecolabel recognise and reward sustainable fishing. The Marine Stewardship Council is a global organisation working with fisheries, seafood companies, scientists, conservation groups and the public to promote the best environmental choice in seafood".
We believe we act for the future of our oceans.
Pasta with Connétable sardine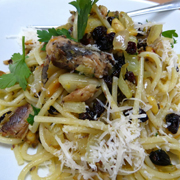 Serves 4 people
Prep time 5 minutes
Cook time 10 minutes
Total time 15 minutes
Special thanks to Author: Connétable

Ingredients:

3 tbsp extra virgin olive oil
1 large onion, chopped
3 cloves garlic, chopped
zest of 1 orange
zest of 1 lemon
4tbsp fresh parsley, chopped
60g pine nuts, lightly toasted
45g currants
1 can of Connétable sardine
350g spaghetti
extra virgin olive oil, to serve

Direction:

Step 1
Heat the oil and sauté the onion, garlic and zest and gently cook until soft, about 10mins.

Step 2
Add the parsley, pine nuts and currants, then flake in the Connétable sardines. Season.

Step 3
Cook the pasta in plenty of boiling, salted water until al dente. Drain and return to the pan. Add the Connétable sardine and toss together gently. Try not to break up the sardines too much.

Step 4
Serve with a splash of olive oil and freshly ground black pepper.