RECIPE
Cook delicious dishes by yourself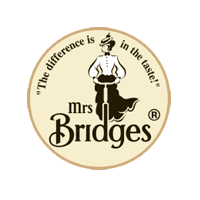 MRS BRIDGES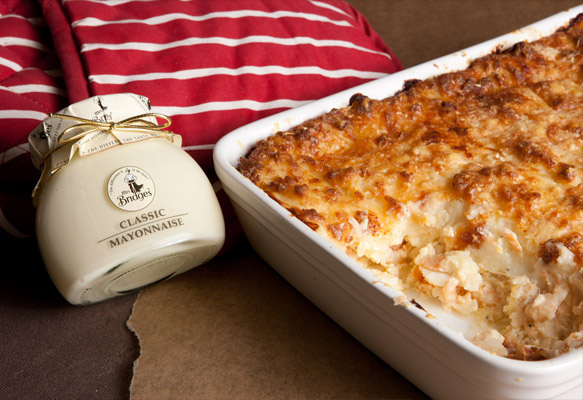 Mrs Bridges … Cook … or Kate to a very select few, began her life 'in service' as an under cook to 'respectable' families in the countryside of Victorian England. From those early days, she began collecting recipes - or receipts as they were then called - and her repertoire spanned from simple country cooking, to dishes in the fine French fashion. Kate Bridges earned the honorary title of 'Mrs' Bridges when she became Cook to one of the leading Edwardian families, and London socialites, Lady and Richard Bellamy. Lady Marjorie Bellamy was the daughter of a Prime Minister and her husband Richard was a Tory MP. During her tenure in the Belgravia kitchen at 165 Eaton Place, London, SW1, Mrs Bridges devised elaborate menus and cooked for some of the leading figures in the capital including the Monarch King Edward.
Mrs Bridges was immortalised in the long running 1970's series 'Upstairs Downstairs' where, along with the Butler Mr Hudson, she reigned 'downstairs.'
With her versatility of touch in the kitchen, Mrs Bridges collected her receipts for dishes which would grace regal banquets - as well as 'below the stairs' suppers. Inspired by the works of Mrs Beeton - and encouraged by her employer Lady Marjorie - Mrs Bridges drew her receipts into a book which was published in 1905. Unlike her contemporary Mrs Beeton, whose social position meant she probably rarely set foot in the kitchen - Mrs Bridges wrote as one cook to another.
In the original foreword, she hoped that:
"The receipts will serve the needs of cooks and of hostesses for the many and varied occasions throughout the seasons."
Few copies of Mrs Bridges' "Practical Household Cookery" survive, but the spirit of Mrs Bridges lives on today and is preserved in the quality Mrs Bridges range of food gifts.
Mrs Bridges Fish Pie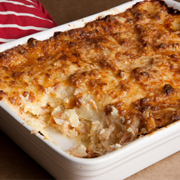 Serves 6-8 people
Prep time 20 minutes
Cook time 1 hour
Total time 1 hour 20 minutes
Special thanks to Author: Mrs Bridges

Ingredients:

4 large baking potatoes
3 tablespoons butter
100ml tablespoons cream
1 onion diced
1 garlic clove minced
1kg mixed fish and shellfish e.g. mussels, prawns, smoked haddock, salmon and cod
150g cheddar cheese, grated
4 eggs
Salt and Pepper
1 jar Mrs Bridges Classic Mayonnaise
 2 egg yolks

Direction:

Step 1
Preheat the oven to 180 °C

Step 2
Peel the potatoes and cut into even sized chunks, boil for approx. 20 minutes or until soft. Add 3 eggs to the same pan of potatoes and hard boil (7 minutes).

Step 3
Beat mayonnaise, 1 egg and egg yolks together.

Step 4
Soften onion and garlic in a little oil, add the seafood and fry until starting to turn opaque. Stir in 50ml cream.

Step 5
The eggs should be cooked through by now, remove from pan and peel (submerge in cold water if they are too hot to handle) chop roughly and add to fish mix along with half the cheese and mayonnaise mix.

Step 6
Season to taste with salt and pepper and pour into a casserole dish.

Step 7
Mash the potatoes with butter and remaining cream. Smooth over the fish mix, top with the remaining cheese and bake in the oven for 45 minutes to 1 hour, or until the top is golden brown.